Alright, we're back with a new stretch of Lessons from Anime. I know some of you (many of you) aren't anime watchers. I understand. Jumping into anime is as vague as jumping into movies. Because Anime is only a medium of Japanese animation and can cover every genre under the sun. Also, it has a tendency to explore some weird stuff. I usually don't recommend people jumping into Anime without a world weary guide of sorts to give them recommendations.
However, once you're into the anime craze, it's hard to stop, and I've found that my writing has always been influenced by anime over everything else. Many of my favorite stories from any medium come from anime. So as we pick up this series again, we'll be looking at why exactly I take so many different writing lessons from these shows and how you can too, even without watching them (Though I highly recommend many of the shows discussed on this series). With that said: Let's jump in.
Ever heard the phrase 'why so serious'? Of course you have. It's hard to escape the Dark Knight or the legions of joker cosplayers that smear makeup on their face and call it a day. I love the Dark Knight, of course. Its one of the only Christopher Nolan films I remotely enjoy. That's because Christopher Nolan films take themselves extraordinarily seriously to the point of being boring and melodramatic. The joker, the chaotic evil villain of the evening, is the only one to lend even a hint of humor, however dark. He brings up a good point in 'why so serious'. Namely, why is it that violent, action movies have to take themselves so gosh darn seriously?
Baccano and its spiritual successor, Durarara, are two shows filled with dark concepts on paper. Baccano has mobster shootouts, torture, sadists and a whole lot of defingerings. Durarara has gangs, headless riders, suicidal thoughts and serial killers. It would be easy to make either series into a super serious battle to death sort of story.
Don't worry, he'll be fine
But that wouldn't be in keeping with the 'why so serious' spirit, would it?
Both Baccano and Durarara are just so much fun. And not even in a dark sense of humor sort of way. Baccano has such an entertaining, light hearted tone that it would almost fit in with the other Saturday Morning Cartoons. You know, if not for the blood. Yeah, it could take itself more seriously, but when half of your characters are immortal and the other half are kind of nuts, why worry about stakes? Its about how these people bounce off each other. Thieves like Issac and Miria steal by their own strange moral code and spread happiness to everyone around them. Jacuzzi Splot cries, but then goes in and kicks ass with his pyromaniac girlfriend. Ladd Russo kills a lot of people but he's just so filled with puppy like excitement, it's hard not to love him.
This show isn't about the black and whites of morals but rather all of those little greys in between. None of the characters fall on the lawful good section of the alignment spectrum--or the lawful spectrum at all--but that all makes them so much more fun.
Durarara has more of a point than Baccano (which exists for the purpose of being shallow fun), and has its share of serious topics. It explores the desire for power, the effect of social media on the modern world, and of course, suicidal thoughts. But it all operates under a more optimistic view of 'life happens and you get through it'. The world isn't really so awful as it seems.
Characters you would think are irredeemable love and live and laugh. They all have comedic moments. They have dramatic moments too. But in your heart, you know that the show is going to take an optimistic spin. It's not the sort of show to kill off its cast of thousands.
And on top of that it has some of the most ridiculous stuff. Durarara is not bound by the mechanics of reality and watching a man throw a fridge at another man has never been so funny. It has twisted love stories, many of which will even have you asking 'why'? But you get the feeling Durarara is never making any moral judgments. It's just showing a bunch of screwed up people living their lives.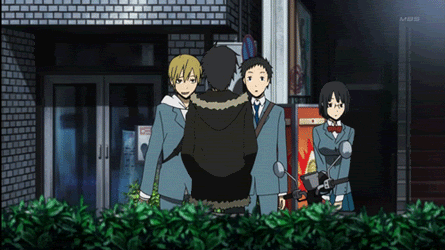 But why does it matter? Why are shows like these ultimately more effective than the 'everything is dark' Christopher Nolan approach? Because humor, however dark or ridiculous, is often the real coping mechanism we need. And optimism, honestly, is so much more valuable than cynicism. Baccano asks 'why so serious' and Durarara insists 'the world isn't as bad as you think' and honestly, I get so much more hope and enjoyment from both of them.
Never take your stories or characters too seriously. Give them room to enjoy themselves and breathe. Sometimes issues are best explored through a little humor. Sometimes a good laugh over the craziness of life is worth more than tears.